At 9AM, we bring you the Wednesday Edition of the Edge Radio Show. There is a lot going on this weekend. The DJ Association will be in NMB for DJ Throwdown. Fat Harold's and the Spanish Galleon have some great bands scheduled including Band of Oz, Jim Quick & Coastline and The Entertainers. The Martin Davis Band featuring Jackie Gore and Big John Thompson have a couple of shows scheduled this weekend which has a lot of fans excited. These guys made their debut in February and many are talking about them and their performance. Of course, Bo and I are excited about their debut in Carolina Beach this May for the Edge Music Series.
Wednesday on The Edge Radio Show
NMB This Weekend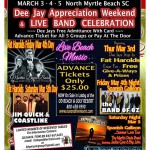 Favorite Songs
What are some of your favorite songs from the guys in the Martin Davis Band featuring Jackie Gore aand Big John Thompson. Of course they have all performed with some of the top bands in Carolina Beach Music. Most of these songs are still being played every day across the beach music radio network. We have our favorties and will play some today. We hope to hear from you and get yours on the show too!
..