We did it! The 2016 Hair on Main happened despite the storms that threatened to cancel the show. If you missed it, you missed an incredible show that featured The Tim Clark Band, Jim Quick & Coastline and a special performance of Matty and (daughter) Sicily Russo. Thanks again to everyone that came out and supported this benefit to fight Cystic Fibrosis and help find the cure. The current donation from the event is at $2400. You can add to the donations by clicking here.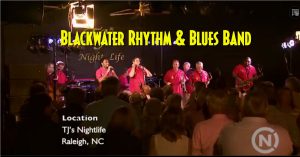 Last Night, the third episode of Bands of the Sand showcased Blackwater Rhythm & Blues Band – if you missed it, click here and watch the replay online. They performed their Number One Hit Song "Dance Tonight" the current 2015 CBMA Song of the year. If you have not seen these guys in person, you need to make plans now. We are very excited that they are on The Edge Music Series and will play in Carolina Beach at the SeaWitch on September 9th.
The Best Music in the World comes to you on The Edge Radio Show. Join us on Shag City USA Radio for the…
Monday Edition of The Edge Radio Show at 9AM
..