Back at it! We are back again playing the best music in the world this morning on 94.9 The Surf.
We are especially excited to announce that Eggs Up Grill is a sponsor of the Edge Radio Show today. Be sure to visit Eggs Up Grill located behind the Harley Davidson in the Windy Hill Section of North Myrtle Beach on Highway 17 South. They are open 7 days a week from 6AM to 2PM and feature many, many great options for breakfast and lunch. You have to try the Grilled Blueberry Muffin! It makes muffins the regular way boring. We will be talking about Eggs up Grill on the show this morning, so please tune in at 9AM and show support by visiting Eggs Up in Windy Hill when you come to the beach. If you live here, maybe we will see you there for lunch soon after the show! Be sure to ask for Gordon and Sara and tell them you heard about them from The Edge Radio Show with Mike Worley on 94.9 The Surf!
Special Thanks to Hair on Main again for sponsoring the show! Hair on Main in North Myrtle Beach has a great staff that makes you feel like family. Be sure to visit the salon when you are in North Myrtle Beach. If you are looking to make a change on your style, call them for an appointment at 843-249-7804.
We have a great show planned today and hope you can join us The Edge Radio Show. Tune in and Turn it Up!
Tuesday Edition – The Edge Radio Show starts at 9AM
Join us on 94.9 The Surf at 94.9 FM or on the Web at 949thesurf.com

Support our Sponsor – Eggs Up Grill- Barefoot Commons
Say Hello to Gordon and Sara when you visit them in North Myrtle Beach!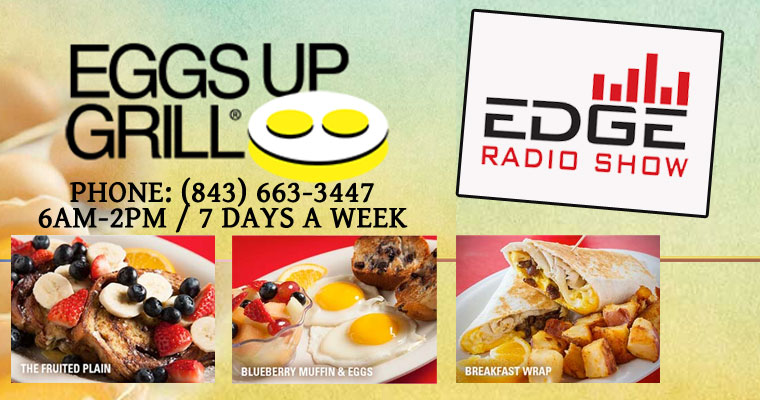 Support our Sponsor – Hair on Main in North Myrtle Beach