Hello Monday Morning! We are here again with another 3 hours of the best music in the world. If you are in North Myrtle Beach and online with us this morning. Special Thanks! We know a few that will probably not be awake yet judging by the pictures we are seeing on facebook. It is Day 4 of SOS Spring Safari. There are some great events planned today for the Beach Music Band Fans in OD. The Martin Davis Band featuring Jackie Gore and Big John Thompson are at Fat Harold's this afternoon. Jim Quick & Coastline are at the Galleon tonight. Great DJs are spinning the tunes all over the beach for the dancers! Have fun out there! We will get you to the Noon Time Hour – Thanks for joining us on The Edge Radio Show at Shag City USA.
Monday Edition of The Edge Radio Show

Band of the Sand
Be sure to click over to our page about the series that showcases song clips from the bands and has the full schedule of shows.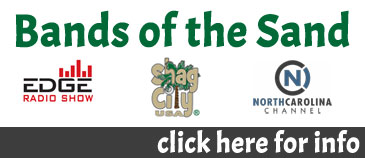 ..
How Many Days Have you Got Left?
Tell us about SOS!
.