Well what do you know it's already Friday Eve and we are one day away from the weekend and it's going to be a BIG one at that! The largest New Years Eve party in the Carolinas gets kicked off today at 2:00 at Fat Harold's with Jim Quick and Coastline! How's that for getting the party started? Fat Harold's and the Spanish Galleon will have bands along with DJs throughout the weekend so if you haven't already, stop in and pick up your tickets today! Tickets are available at Fat Harold's and the Ocean Drive Beach and Golf Resort.
As you are making your way down here to paradise keep your radio locked in to 94.9 The Surf and by all means keep it turned up! You do the driving and we'll take care of the music.
I look forward to having along for our daily musical journey to the EDGE starting at 11:00a sharp! Have a great day and happy "Friday Eve"!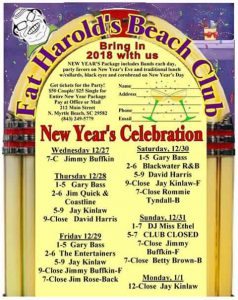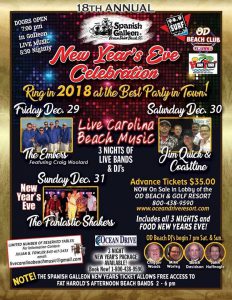 Join us on 94.9 The Surf at 94.9 FM or on the Web at 949thesurf.com